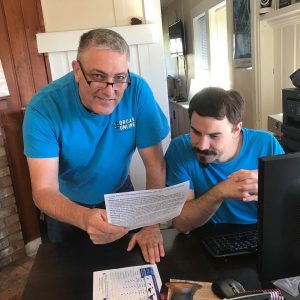 Orcas Online is an internet service provider and creative content and website development agency as well as a hosting company. Our network covers Orcas Island, Blakely Island, Waldron Island, and several of the lower Canadian Gulf Islands. Orcas Online also provides technical support for networks and computers as well as assistance with tablets, cell-phones, and other Apple or Android devices.
Rick Boucher, co-owner of Orcas Online, launched Northbeach Computers in 1992, specializing in computer repair with a strong interest in the internet as it began to roll out in the United States. Rick helped facilitate the arrival of dial-up in San Juan County through a Bellingham-based technology company called Pacific Rim. He was also delving into HTML and website development at the time. In 1996 Rick and his business partner Gerry Baker founded San Juan Web, and its first projects were undertaken on behalf of the Orcas Island Chamber of Commerce.
Rick and Gerry began designing websites at the same time and were forerunners in the industry for local innkeepers, businesses, and entrepreneurs whose advertising strategies were about to move from newspaper and other print media to full online promotion. San Juan Web also developed their own sites, improving their skills and creating the original suite of sites now anchored by OrcasIsland.org.
As work in website development continued to grow, operations at San Juan Web were stunted by the very low upload speeds of local internet and Rick began to pursue higher speeds via T-1 lines, a very expensive proposition at the time. In 2000, Rick and Gerry started Orcas Online, Inc. to increase their bandwidth at the office, offsetting the high-cost T-1 lines by offering dial-up service to the local community. Soon afterward Orcas Online added DSL service to its portfolio. Stu Baker came on board, marking the beginning of our successful foray into the delivery of wireless internet. Nathan began working for Orcas Online as a teenager, Mindy Nunez became part of the effort in 2012, and Keith Light joined our team in 2016. 
Wireless technology quickly revolutionized the company's ability to meet increasing demands for higher speed and robust bandwidth at mainland prices. Orcas Online became a Wireless Internet Service Provider, or WISP, exclusively in 2017, leaving DSL technology behind. The wireless technology utilized by Orcas Online operates on a peer to peer system, deploying several "access points" situated around Orcas Island and on neighboring islands such as Waldron and Blakely. A wireless receiver dish on the customer's property receives the bandwidth transmitted from the Orcas Online main office in Eastsound through the network of access points. Customers enjoy wired and wireless internal network options through wireless, multi-port routers as well as custom installation options including wi-fi range extenders and network extensions to additional structures.
In 2020 our network grew to an unprecedented level when Orcas Online successfully completed a buildout to Lummi Island, opening sections of the northern residential area on Lummi to our Wireless Service. Network links from Lummi facing towards Orcas also allowed us to serve Raccoon Point, a longtime "dark zone" on Orcas Island notorious for its spotty internet. This buildout not only enabled us to reach traditionally underserved residences, but also provided proof of concept for more outer island buildouts. Since then we've gained Stephen Baker, Cory Foote, Courtney Wood, and Spring Harris. In December 2021 we moved office spaces and now occupy more than double the area as before. We have lots of room for our future expansion.
We are proud to continue to provide quality, high-speed internet with a minimum of fuss, reasonable installation and equipment fees, and personable local service for over 20 years. Orcas Online specializes in supporting part-time residents with seasonal service options, allowing traveling customers to suspend internet and billing while they are away; a unique policy among internet service providers in San Juan County.
The Orcas Online staff and business actively support numerous non-profit organizations and charity events including the Orcas Island Food Bank, Kaleidoscope Childcare Center, Orcas Island School District, Orcas Christian School, and the Orcas Island Community Church; as well as individual local islanders in need. As many as twelve people are employed at Orcas Online in various roles including office staff, tree climbers, janitorial staff, groundskeepers and other service providers in the Orcas Island Community.
Need internet on Orcas Island? Call our office to see if your property is in our network range; we are happy to assist you!
Gerry Baker and Rick Boucher
Owners, Orcas Online, inc.