Orcas Community Resource Center
The Resource Center staff partner with local neighbors, businesses, and like-minded public and private organizations, including the United Way, San Juan County, the Northwest Washington Opportunity Council, and the Northwest Regional Council. Last year, over $150,000 was funneled directly to hundreds of islanders, whose needs are far greater than most people probably imagine. Without OCRC, all this valuable assistance would be lost!
Learn more at: orcascrc.org
---
Orcas Island Food Bank
The Orcas Island Food Bank's Mission is to gather and share food and related items with our neighbors in need. They are open Tuesdays, Wednesdays, and Fridays: Noon to 6 pm. Customers may come twice a week if needed.
Learn more at: orcasislandfoodbank.org
---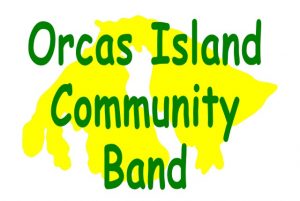 Orcas Island Community Band
The Orcas Island Community Band (OICB) is a 501c3 non profit all-volunteer organization comprised of approximately forty Orcas Island and occasionally neighboring-island men and women dedicated to making a unique musical and cultural contribution to our community. Membership in the OICB is open to musicians of high school age or older who play instruments found in the standard scoring of the concert band. Our members come from a broad variety of backgrounds, including healthcare workers, firefighters, school teachers, engineers, politicians, doctors, housewives, students, and senior citizens.
Learn more at: orcascommunityband.org
---
Orcas Center
Incorporated in 1976, Orcas Center is Orcas Island's performing arts and community center; providing Islanders with artistic and cultural experiences that feed their hearts, souls and minds. Our 10,000 square foot facility is a beautiful, comfortable, safe space in which to make art, gather with friends new and old, and further the sense of community that is so vital and unique to Orcas Island. Local artists, students, groups, and organizations are provided opportunities to perform and rehearse on our two stages, show their art in our art gallery, and host a wide variety of classes in our community meeting room, our two theaters, and our new dance studio.
Learn more at: orcascenter.org
---
Kaleidoscope
The Mission of Kaleidoscope is to provide safe, affordable, high-quality, consistent Preschool and  child care services while supporting the families of Orcas Island. At Kaleidoscope we value diversity in our community by welcoming all, stability in services and relationships between teachers, children and families. Teamwork is based on open communication and mutual respect at every level of the organization. We emphasize a positive attitude towards nature, creativity, and the learning process. We hold ourselves accountable to a high standard of competence, reliability and professionalism.
Learn more at: ourkaleidoscopekids.com
---
Orcas Island Chamber of Commerce
The Chamber is a Washington non-profit corporation, and exists to support the membership; its objectives are to develop, encourage, promote and protect the commercial, professional, financial and general business interests of Orcas Island. The Chamber also is to promote the civic interests and general welfare of the Island by providing information about Orcas Island and supporting community events; expand member benefits for the Chamber membership; and obtain financial support to achieve the Chambers goals.
Learn more at: orcasislandchamber.com
---

Safe San Juans
SAFE San Juans (formerly DVSAS) is a non-profit agency serving the residents and visitors of San Juan County. Our mission is the prevention and elimination of domestic violence and sexual assault through victim services, education, community awareness and cultural and social change.
---
Orcas Island Public Schools (Annual Scholarship)
The Orcas Island School District serves grades K-12 and offers a curriculum designed to prepare students to be college or career-ready.  Advanced placement and advanced technology applications courses are offered at the high school level. The district is governed by a five-member board of directors and operated by a superintendent, school principals, and their staff.
Learn more at: orcasislandschools.org
---
Orcas Island Community Church
Orcas Island is beautiful. Island Magazine calls it one the top ten islands in the world to call home and Orcas Island Community church (OICC) has served the people of Orcas Island for 138 years.
Learn more at: orcaschurch.org
---
 Orcas Island Encounter Church
Encounter Church exists to love God and love people. We are a presence-driven church built around encountering Jesus through worship, scripture, prayer & community. We currently meet Sunday mornings at 10am on Facebook live.
Learn more at: encounterorcas.com
---
And the following…